FREQUENTLY BOUGHT TOGETHER
Main Features:

1.New Soft Touching Design with Humanized Upgrades:New mini elegant curve design with extremely graceful arc waist shape and rubber stretch paint, feeling like baby skin that fits well to any decoration styles. Differs from original traditional display on the valve body resulting in reading trouble from the installation position,this new version is featured as LED display, no window, and wider perspective on the top of the cover; two sections of AA batteries powered,which is a special valve using cooperatively with heating radiator to control the closing and opening of the pipe.
2.A Tuya ZigBee Wireless Gateway Hub is a Must : A ZigBee wireless hub is a must that connects to the valve many other ZigBee smart products and realizes the whole linkage of your smart home devices.Simply add your gateway to the App,then add your radiator actuator to your gateway in the Smart Life App,even smart automation to other smart devices in APP by creating various scenes for flexible controls on smart phones.
3.External Sensor Design for More Accurate Measurement:Functional extremely well with external sensor on the valve that provides accurate readings for house temperature,ensures much more convenient and intelligent control to your smart  lifestyle;Soft and sensitive touch control on the home screen,together with intelligent control on Smart phones,are both featured for this new zigbee radiator valve.
4.Programmable Schedule with Weekly Programming Selection:Supports manual set up 5+2 weekly schedule with 4 periods for option ,providing you with the maximum convenience for different situation and setting customized schedule for your house temperature.Holiday mode,automatic mode,temphand and manual mode available for added convenience;Energy saving in a real sense with low battery tip and Eco-mode supported.
5.Voice and Remote Control for the Tuya ZigBee Wireless Gateway:Supports App remote control via your smart phone,together with the hands-free voice control via Alexa and Google Assistant after successfully connecting your valve to Tuya /Smart Life App on the basis of one Tuya ZigBee Wireless Gateway;Window check and diagram of temperature curve are added in APP for real-time monitoring of room temperature;Full 2 Years Warranty,for All MOES Smart Thermostat,60 Days Refund Guarantee,Your complete satisfaction is MOES goal for all its customers.
Parameter:
Power Supply: 3 V,2xAA Batteries, Packaging not have battery.
Maximum stroke: 4.5mm
Accuracy: ± 0.5°C
Set Temp. Range: 5~45 °C
Display temp. Range: 0~70°C
Ambient Temp.: 0 ~ 45 °C
Ambient Humidity: 5 ~ 95 % RH (Non Condensing)
Storage Temp.: -5~ 45 °C
Timing Error: < 1%
Protection Class: IP 20
Buttons: Capacitive Touch Buttons
Package List:
Raditor Thermostat 1pc
User Guide 1pc
RA Adapter 1pc
RAV Adapter 1pc
RAVL Adapter 1pc
Comap Adapter 1pc
T+A Herz Adapter 1set
Herz Adapter 1pc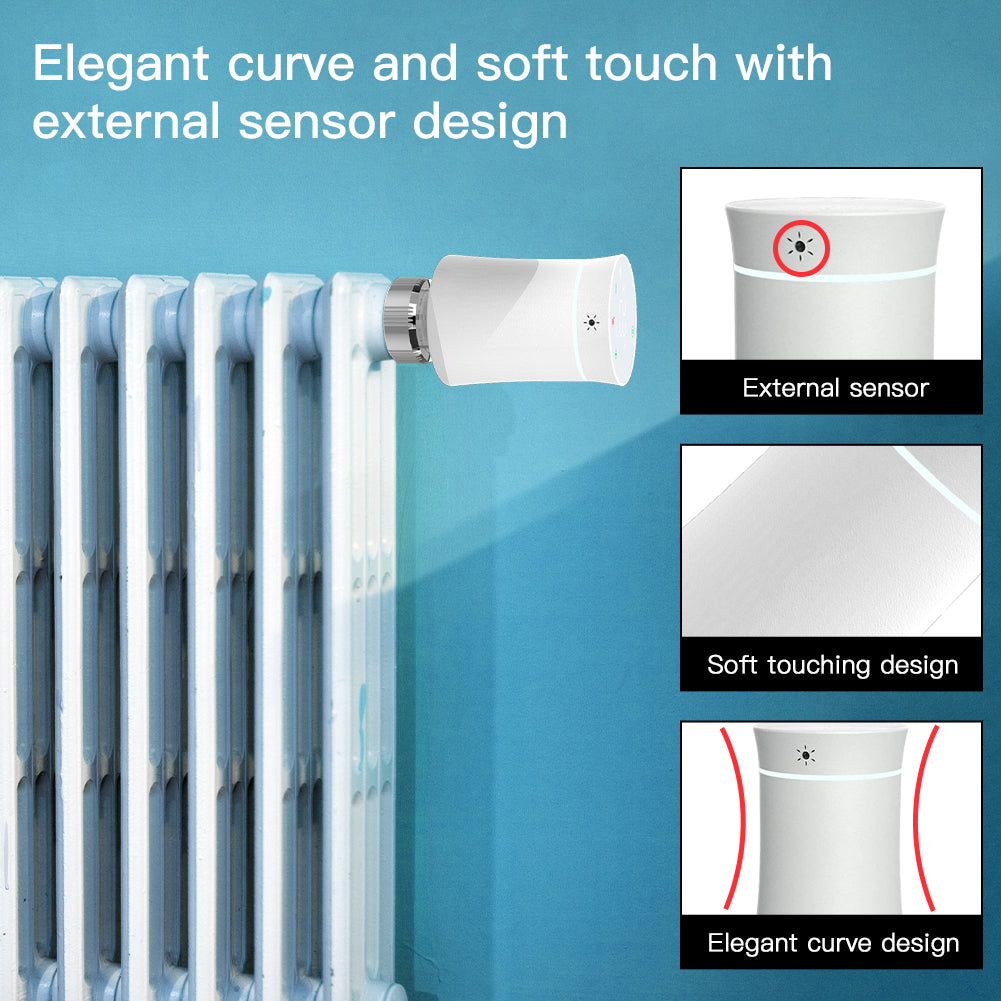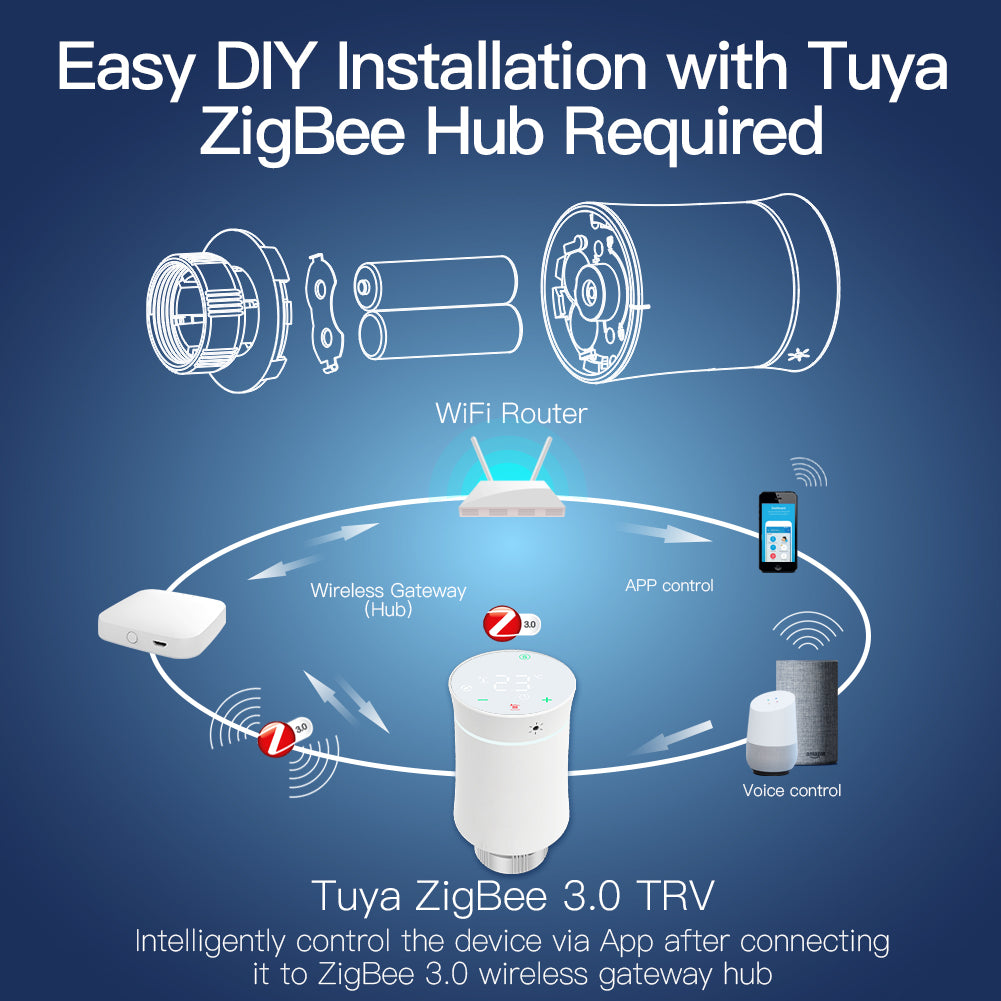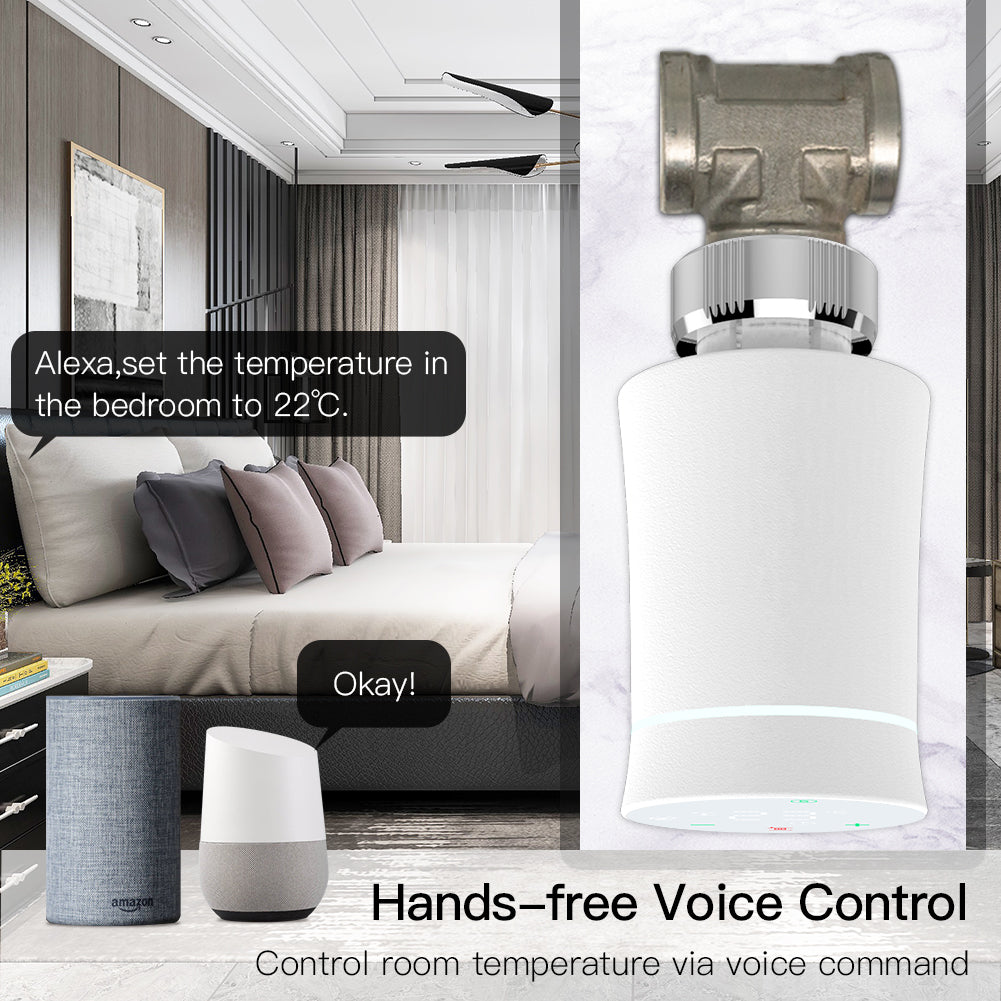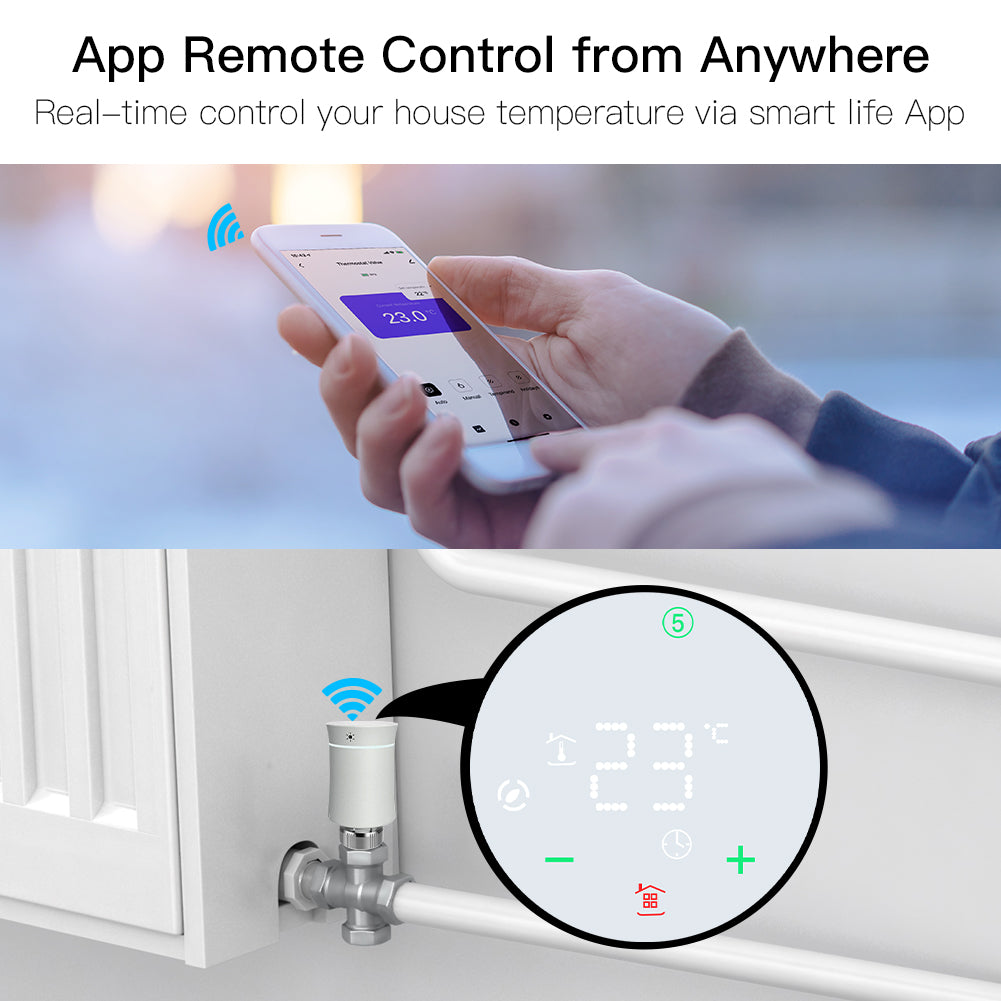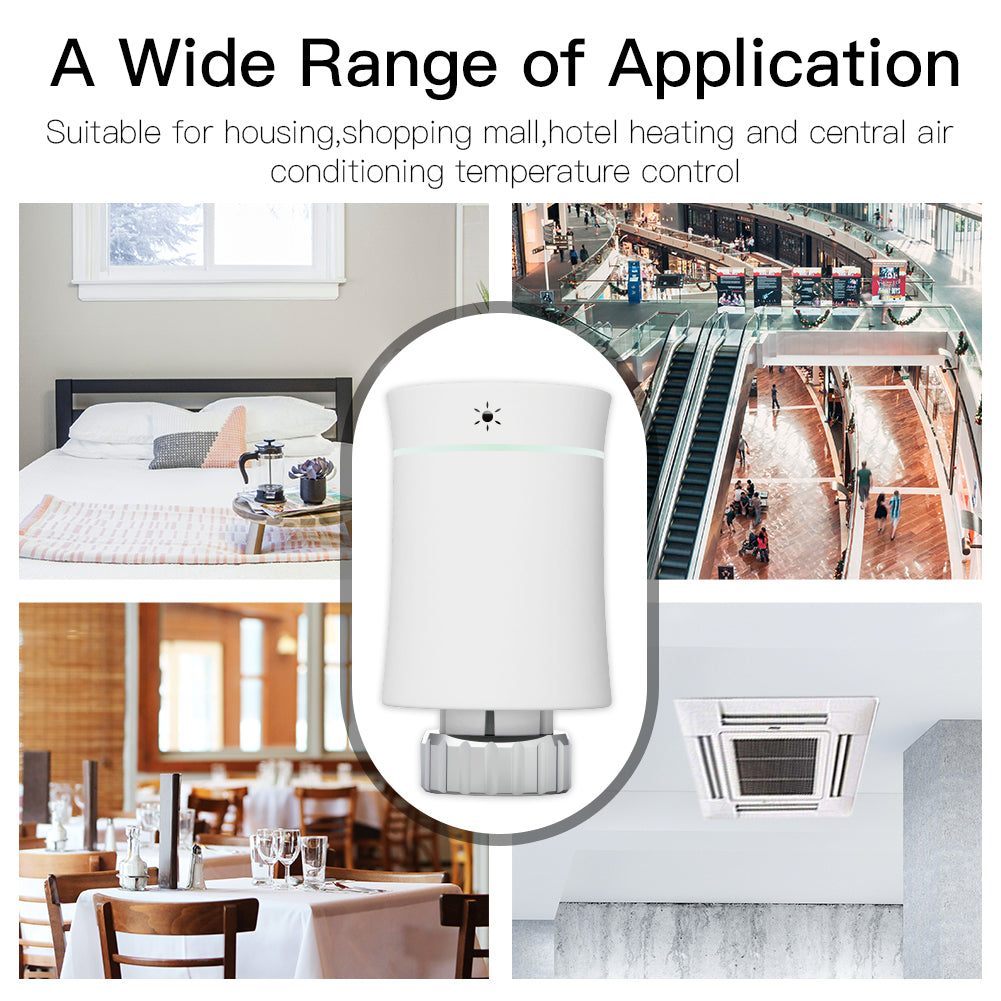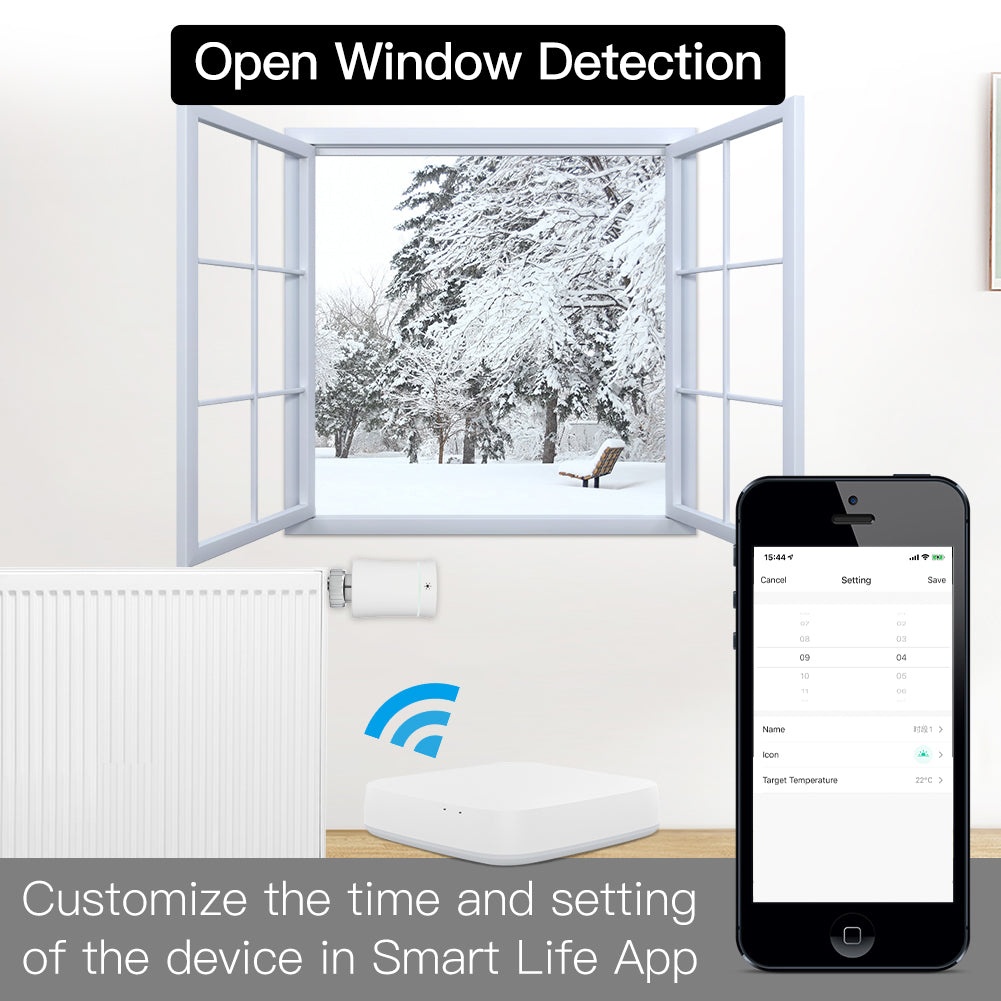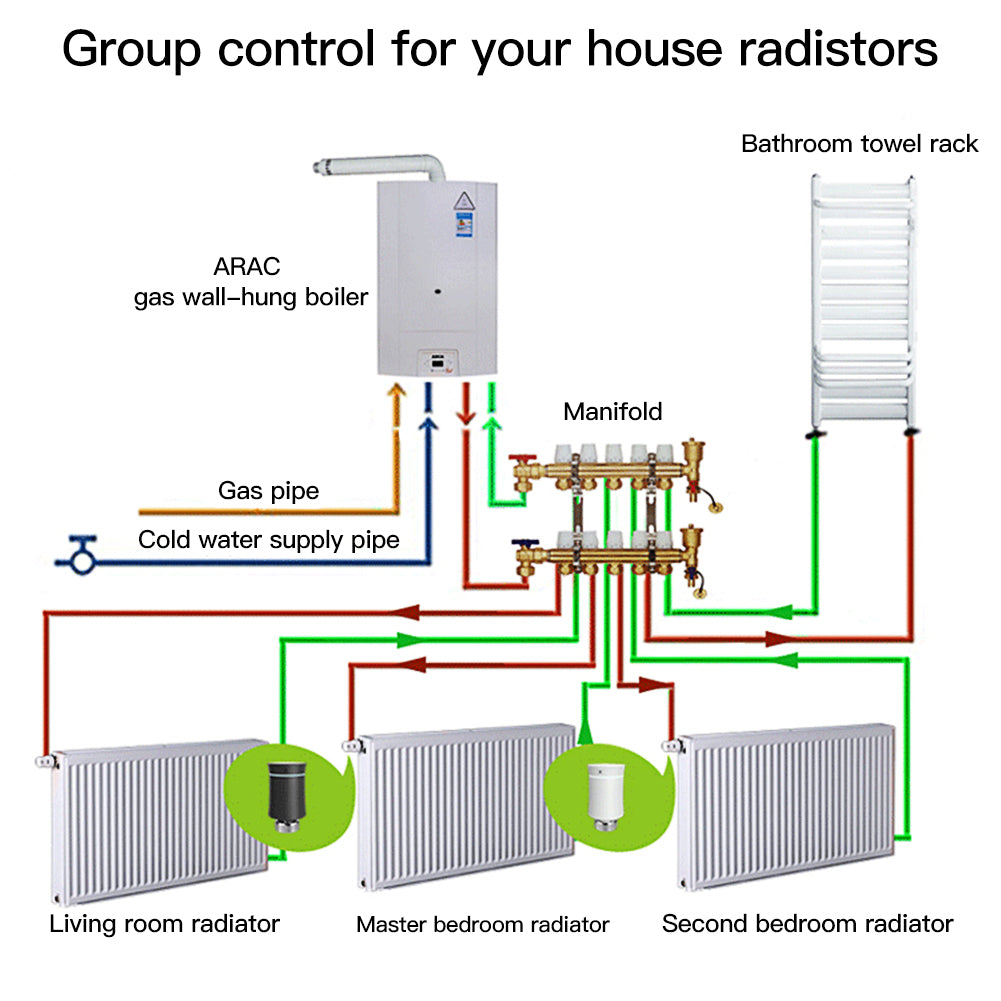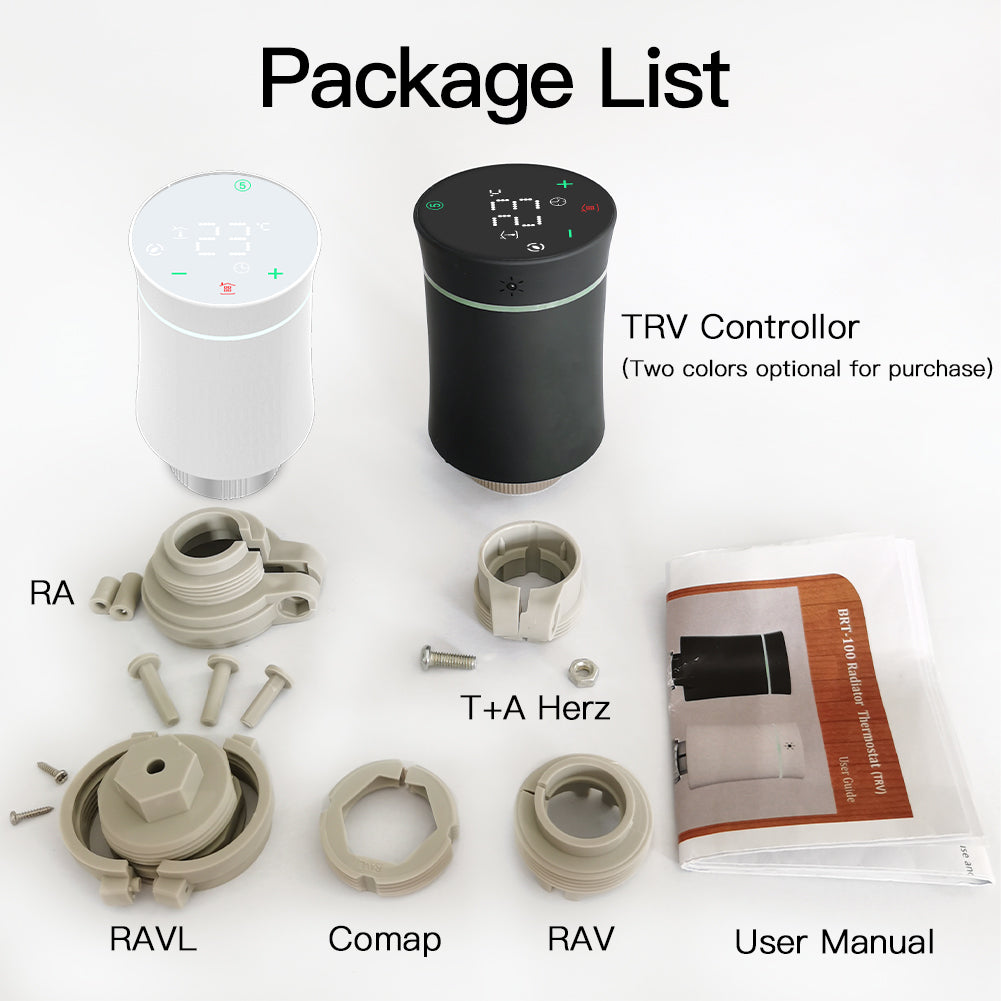 We ship worldwide and most countries support free shipping.
(Other countries need to pay extra shipping cost.)
The time frame for order delivery is divided into two parts;
Processing time:Order Verification,quality check and packaging.All orders are sent to the manufacturers for dispatch within 24 hours after the order is placed.The manufacturer and China Post process the orders,which takes an additional 2-4 days.
Shipping time:This refers to the time it takes for items to be shipped from our warehouse to the destination.US orders are shipped by e-Packet,which usually take between 7 and 21 business days to arrive at their destination,and sometimes it will take longer.Besides,DHL,FeDex etc are also available.
Once you have alerted us you wish to make a return through an email contact.We will email a link to start the easy return process.
We can accept Paypal and Credit card.
Suits my purpose
Bought six months ago and after a few months I fitted a usb 3v battery eliminator in each of the four I bought so they run from the mains which has been well worth the effort.
Secondly they are controlled using node red so work just as they are needed, responding to opened windows or presence at home, sunset times etc.
The item seemed to have a lot of functions I hadn't needed to try. They did not look simple to use or that was my impression, I advise you get these as its a great price but use them as a component to an existing ecosystem rather than programming or using them independently.
The valve could be unbeatable, but ...
!!! There is an urgent need to solve problems with FW !!!
1 - Valve opening range cannot be parameterized (at 25% opening my hydraulic valves are still closed and the heating water pump pushes the water into the closed circuits)
2 - Valves and valve opening positions are not updated in the application (temperature in the application does not match the temperature indicated by the valve)
Then I will be maximally satisfied with the product.
Control and app.
This could so easily be an excellent product, but…
- No published manual to explain the potentially useful settings available on each valve.
- The valve range does not easily span once the batteries are put in, its a case of connecting and hoping F1&F2 work
- no in App setup for valve stroke range.
- not clear at set-point times if it holds until the next set-point time or if it ramps up prior in relation to outdoor ambient or historical heating rates of rise.
- The temperature set points 4/day once set, can change on subsequent inspection for no reason.
Dear Valued Customer,
We are sorry to see that you left negative feedback relating to
your recent purchase experience from our store.
Please contact us at any time so we can find out why you were unhappy
and resolve your problems. We hope then you can revise your feedback
into a positive feedback for us!
Yours sincerely,
Moes Team(services@moeshouse.com)
Auto mode doesnt work
Auto mode doesnt work! update firmwire please