FREQUENTLY BOUGHT TOGETHER
Tuya ZigBee3.0 Smart Programmable Thermostat Heater Temperature Controller Heating Accurate Battery Powered TRV Thermostatic Radiator Valve Controller Voice Control with Alexa 2MQTT Setup Available.
by Moes
Main Features:
1.Smart Tuya ZigBee Radiator Thermostat:The radiator thermostat is with LCD digital display screen with easy new added knob for simple settings. It is designed with two sections of AA batteries,which is a special valve using cooperatively with heating radiator for energy-saving supported.Artificially set indoor temperature, mainly used in the floor heating system to control the closing and opening of the pipe;2MQTT setup avaialbe.
2.A Tuya ZigBee Wireless Gateway Hub is a Must to work with: A ZigBee wireless hub is a must that connects to the valve ,as well as a variety of ZigBee smart products, which is proved to be the bridge and control center for smart homes,which plays an irreplaceable role for all ZigBee products and realizes the whole linkage of your house,a really good substitution for unstable WiFi network.
3.Auto and Holiday Mode Programmable Schedule:Supports manual set up 7 days weekly schedule for simple set,providing you with the maximum convenience for different situation and setting customized schedule for your house temperature;new added one button for comfort mode and rapid temperature in App.
4.Voice and Remote Control for the Tuya ZigBee Wireless Gateway:Supports App remote control via your smart phone,together with the hands-free voice control via Alexa and Google Assistant after successfully connecting your valve to "Smart Life "App on the basis of one Tuya ZigBee Wireless Gateway.
5.Open Window Reminder:When the temperature drops rapidly, indoor temperature drops by 5 degrees in 5 minutes. Equipment will automatically determine whether window of the room is opened for ventilation; in order to reduce heating cost, temperature will drop for some time (15℃ for factory initialization), and when the function is enabled, LCD will display window-opening icon.Full 2 Years Warranty,for All MOES Smart Thermostat,60 Days Refund Guarantee,Your complete satisfaction is MOES goal for all its customers.
Parameter:
 Battery: 2x 1.5 V LR6/mignon/AA(not included)
- Current consumption: 120 mA max.
- Battery life: 1.5 Years
- Degree of protection: Ip20
- Display: LCD
- Frequency: Zigbee 2.4G
- Dimensions (W x H x D): 115x63.7x60.4 mm
- Weight: 191 g (incl. batteries)
- Working temperature: -10℃--40℃
- Working environment: indoor
- Safety : CE/ROHS
Package listing:
- ZigBee Radiator Thermostat: x1
- Manual: x1
- Accessory Package: x1(Six Connectors)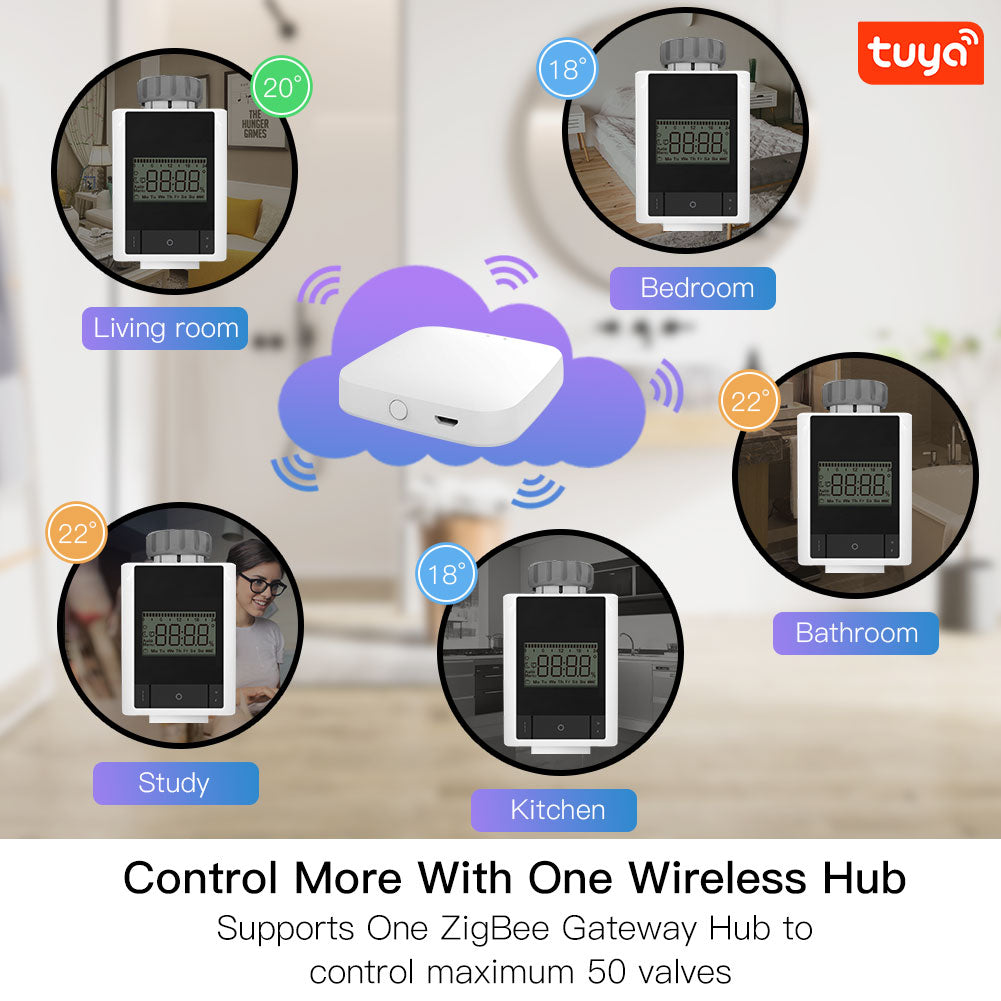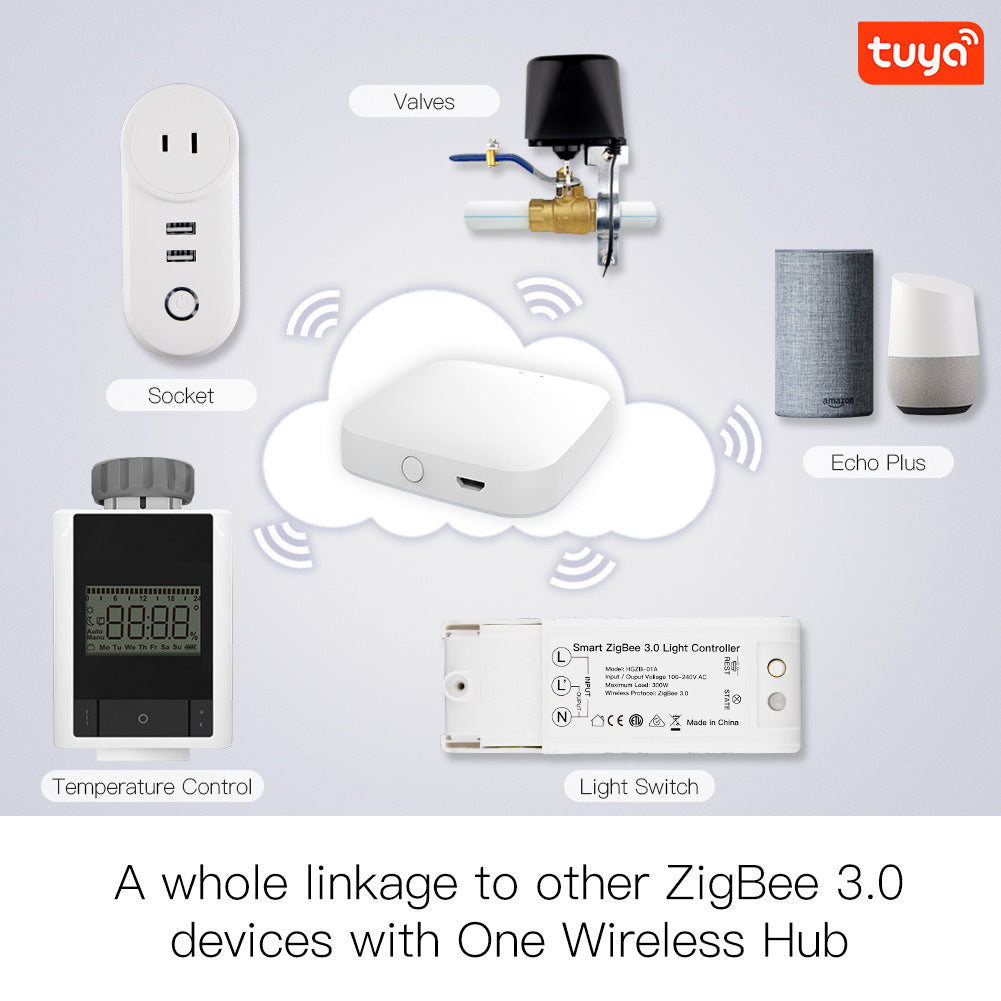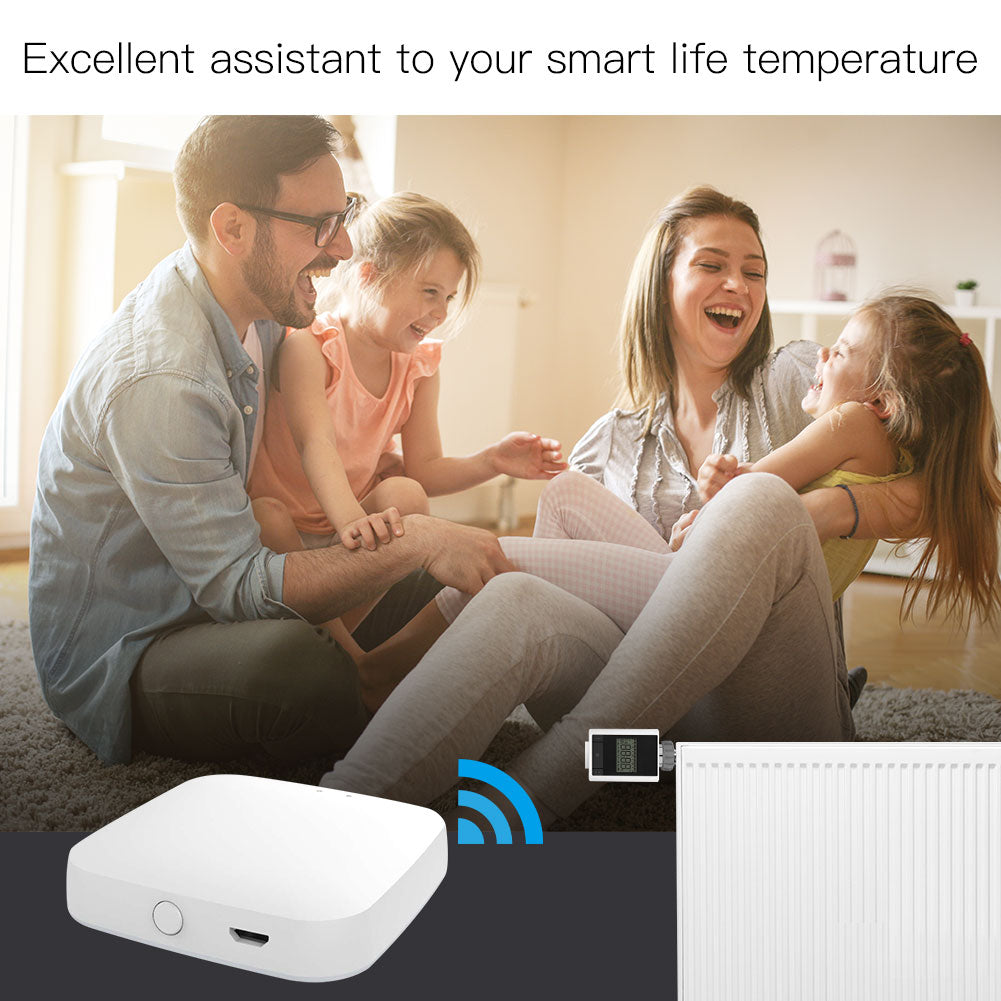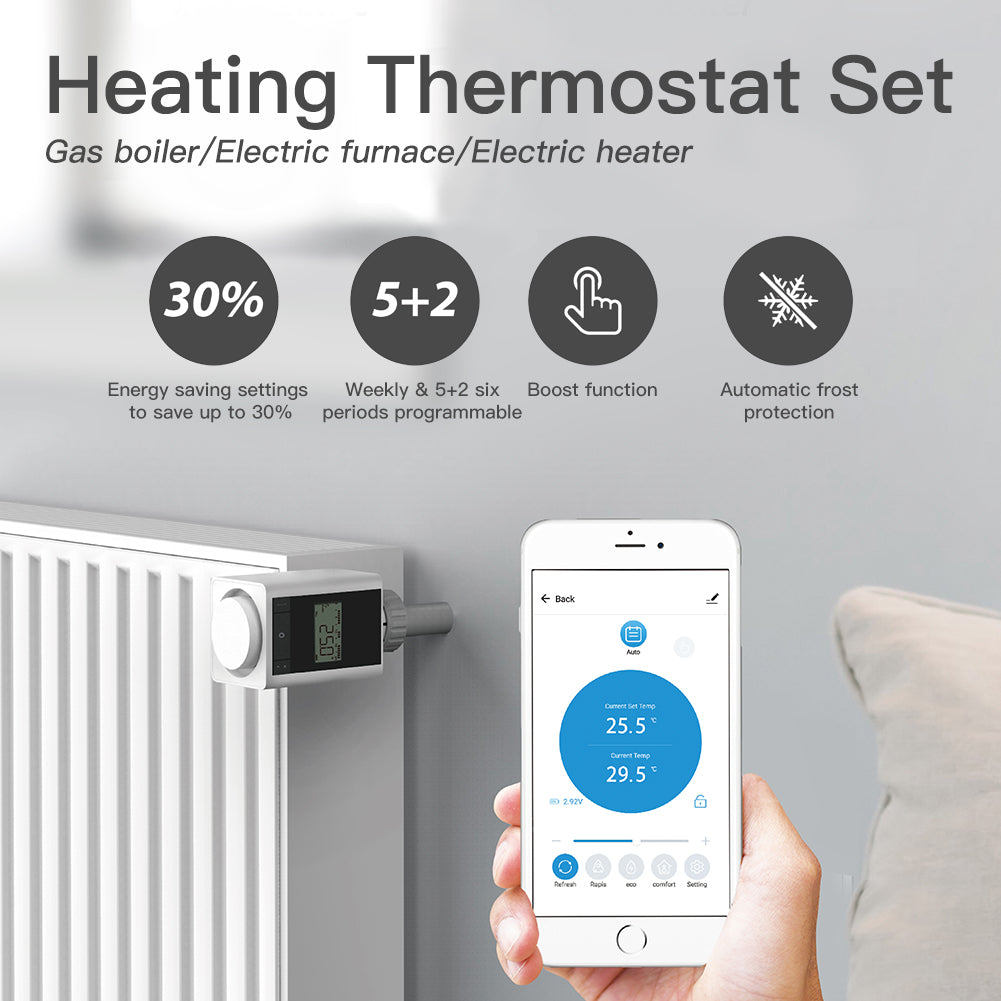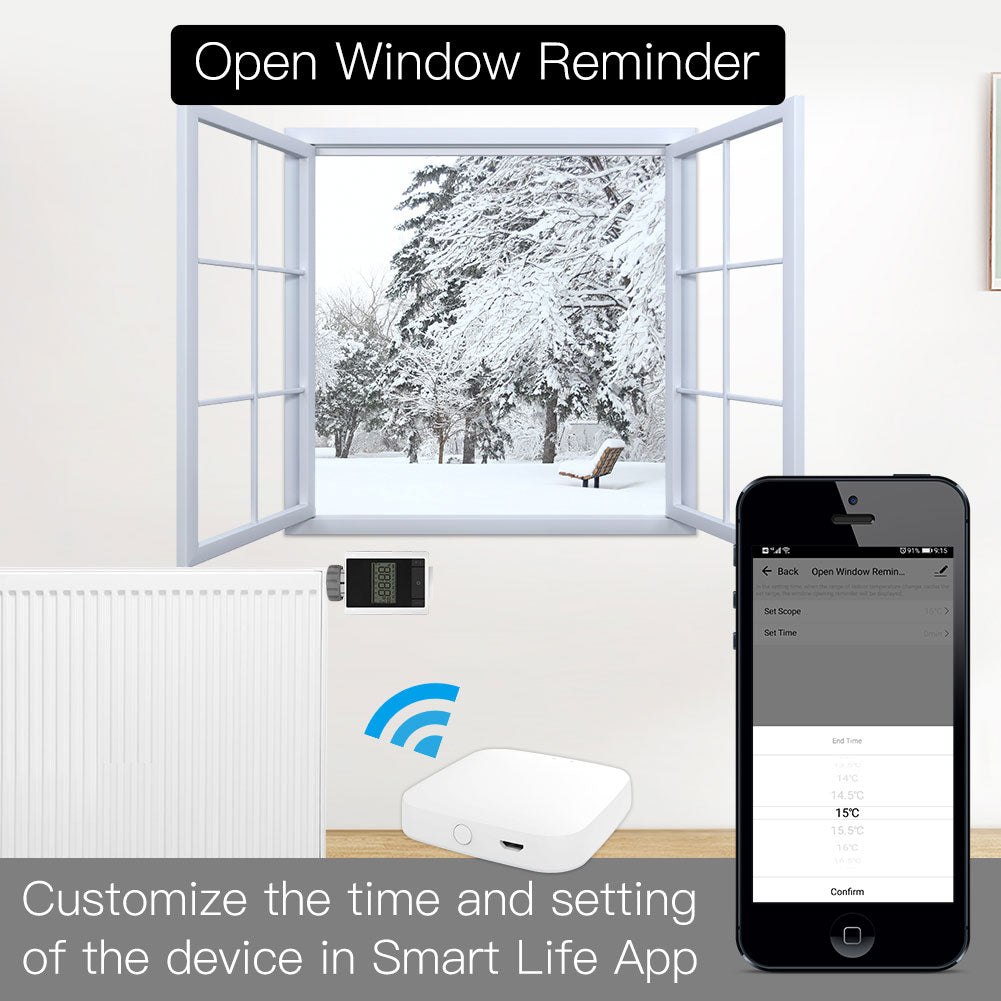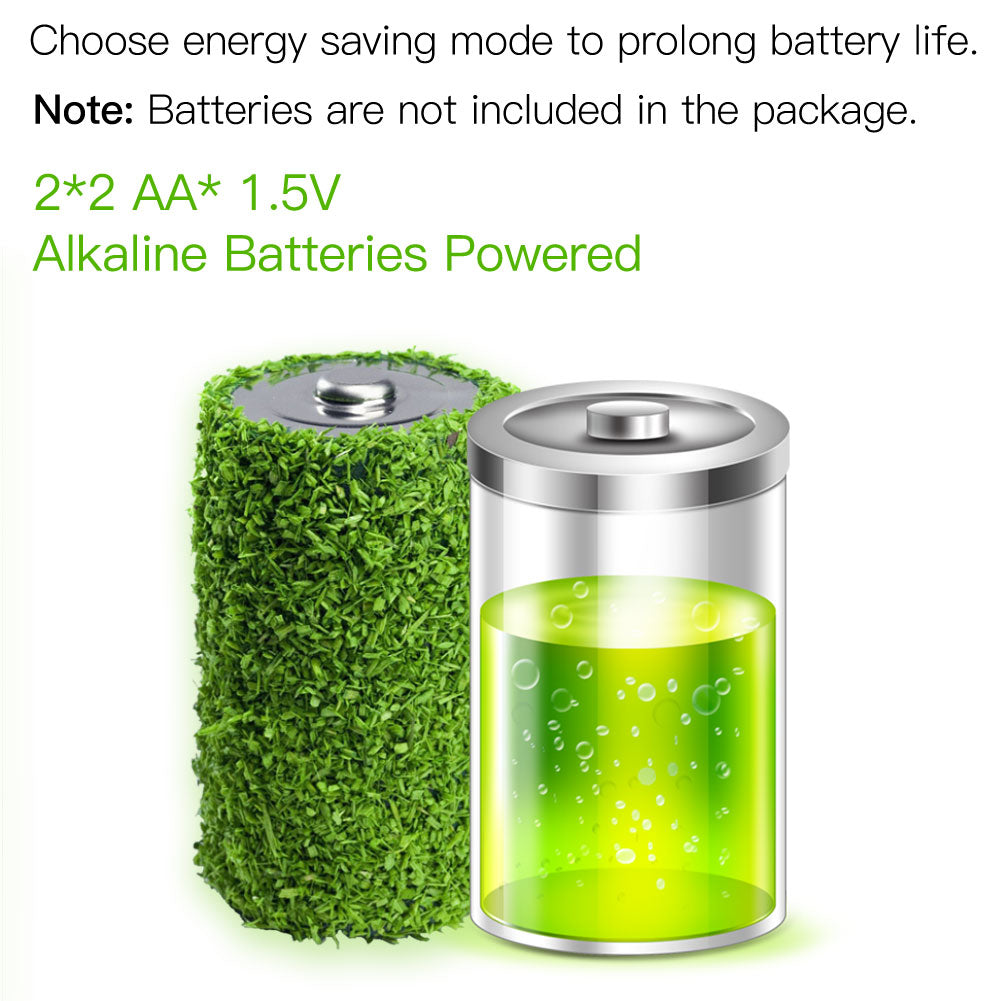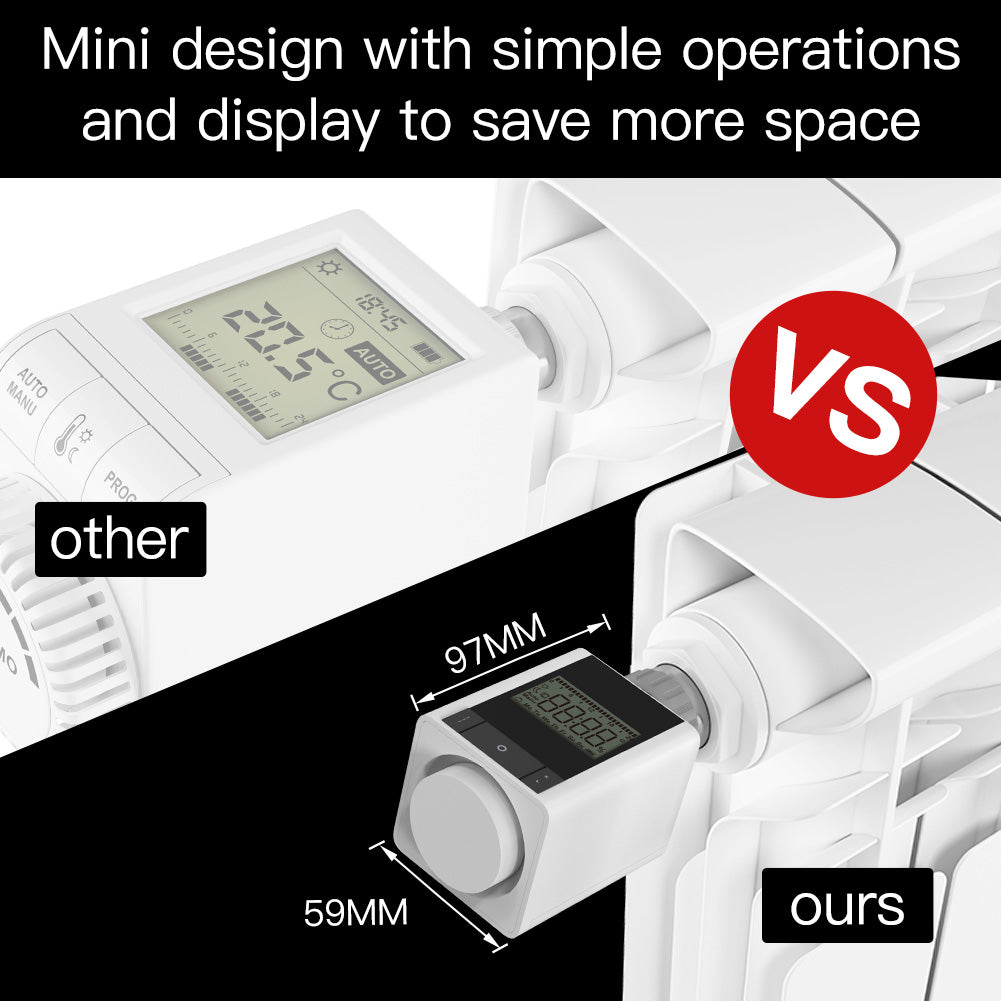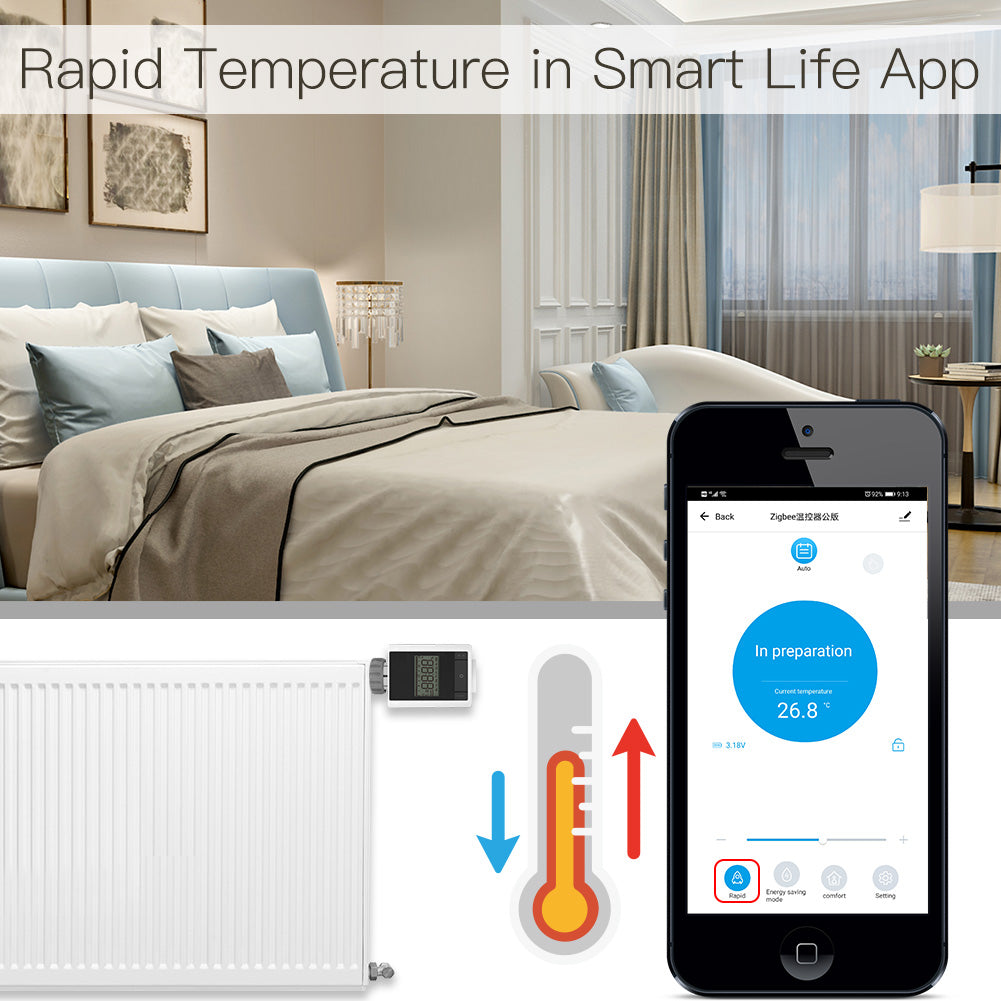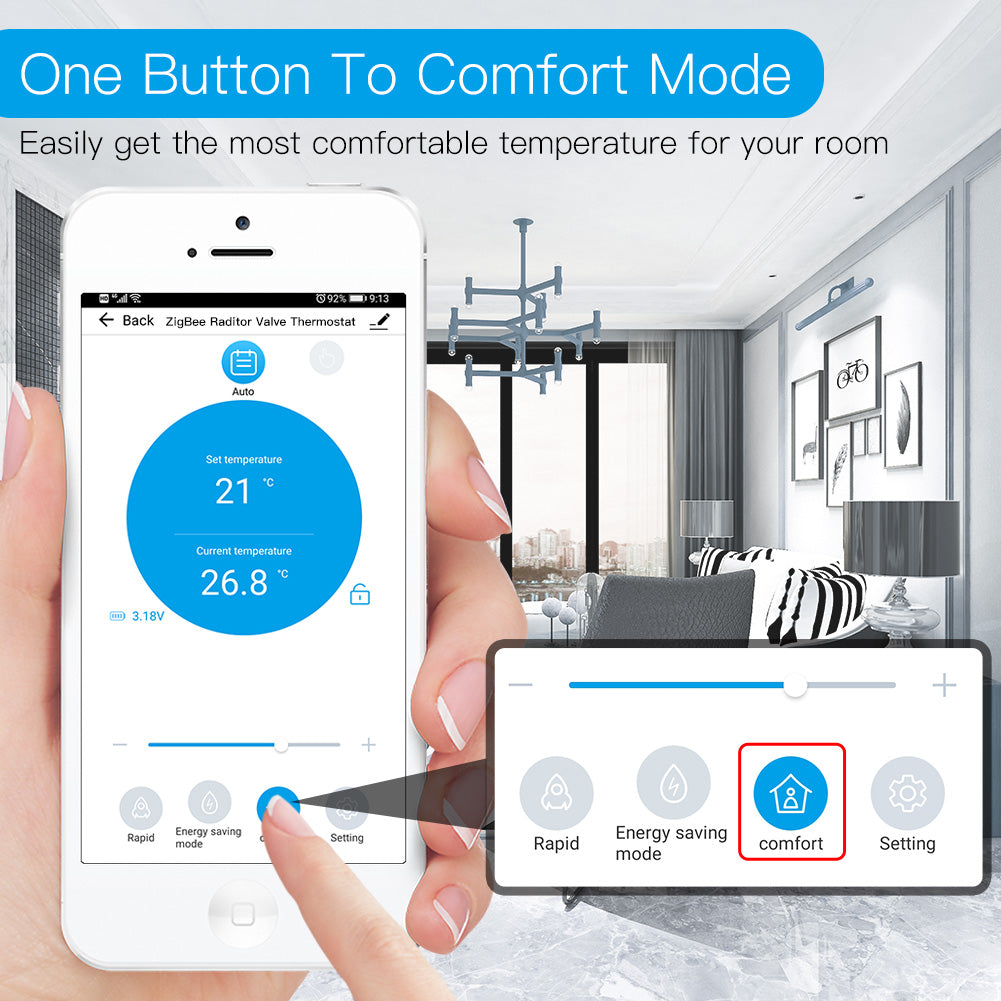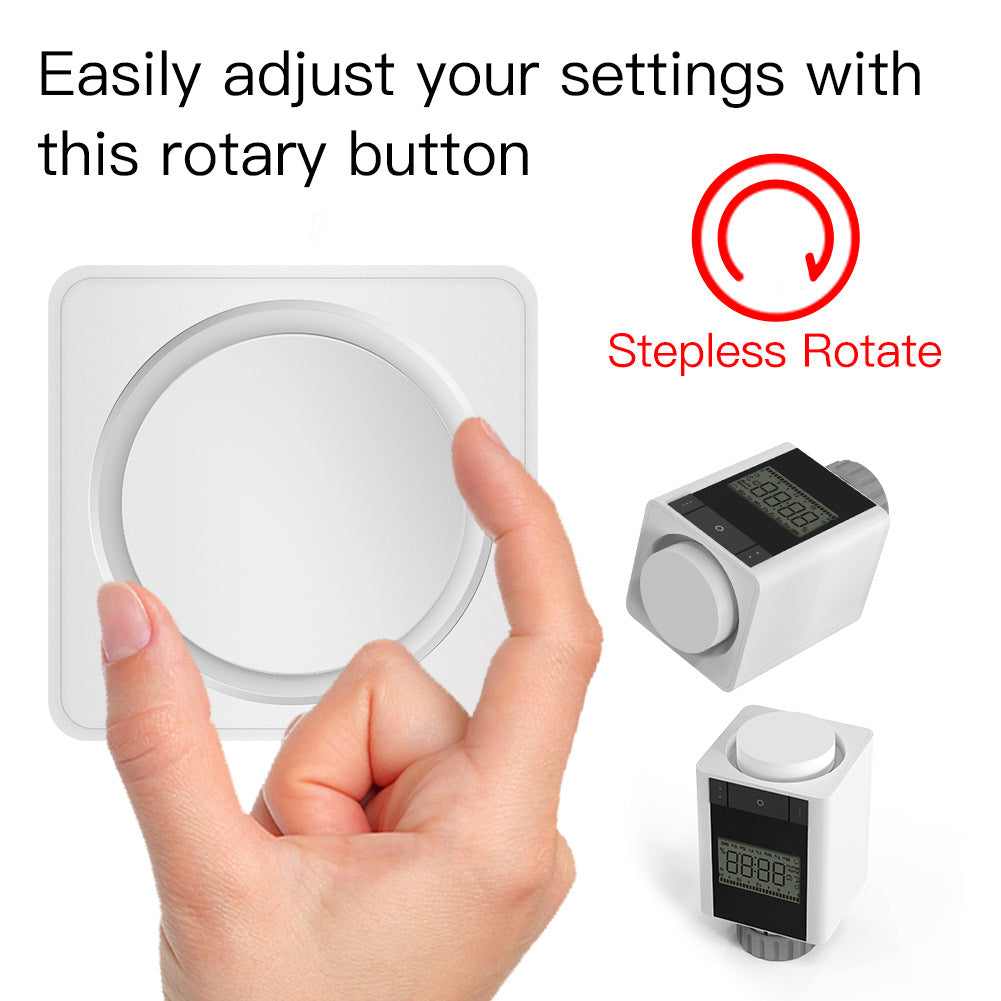 Q&A:
1.Q:Can I use my own hub to connect with the valve?
A:No,this radiator thermostat can only be used with our Moes Tuya ZigBee wireless gateway hub for its much more compatibility than other hubs ,so we offer the set of the two for your to purchase.
2.Q:Can this thermostat be set to Fahrenheit display?
A:No,it can only be displayed with Celsius display.
3.Q:Can I program the schedule myself?
A:Yes,our thermostat is programmable.You are able to program your schedule freely.
4.Q:Can I control the thermostat if I am not at home?
A:Yes,after successfully connecting it to the hub,then you are able to control your device on your smart phone App.
5.Q:Does this thermostat have a screen lock to prevent guests or kids from tampering with the settings?
A:Yes, it does. It has a fully locked mode that prevents any changes or misoperation by children.
6.Q: Is the battery included?
A: No, because of delivery limitation, the product is not equipped with battery.