FREQUENTLY BOUGHT TOGETHER
Newest Version WiFi RF IR Universal Remote Controller TV Air Conditioning  Smart Home Blaster Infrared RF Appliances Tuya Smart Life App Voice Control via Alexa Google Home
by Moes
Main Features:
       Attention: The RF devices can't control by Alexa.
Newest version with RF and IR highly compatible:All-in-one IR and RF remote control devotes to activating Air conditioners, TVs, fans, DVDs, STBs, TV BOXes etc Infraed devices and even RF appliances as RF light,RF switch, RF roller blinds etc with one single remote control;storage of thousands of IR codes.(Support IR 38KHZ and RF 433/315MHz)
Multiple remote control RF protocol ensures a better user experience for controlling different 433MHz RF devices as  curtain\shades motor,light switch;Local IR code for faster response.
WiFi/4G App Remote Control from Anywhere:Equipped with MOES new smart controller,you may control IR and RF devices with free mobile "Smart Life/Tuya" App anytime from anywhere(Compatible with Android & iOS).Control your appliances in advance when you are away from home.Turn your smart phone into a universal remote in an easier way.
Hands-free Voice Control(only for IR devices):Alexa,set A/C to 77 degrees Fahrenheit. A simple voice command can activate thecontroller to remotely control most Infrared and RF Control Devices,such as A/C, FAN ,TV, DVD, STB, TV BOX and RF protocol devices.(Furthermore compatible brands or devices ,please check attached list or Smart Life App.)
Customized DIY Copy Function:If you can not find device brand in "smarlife"App,Programable DIY learning function may help to copy same function from original remote.Most IRand RF remote control Devices will be applicable such as fireplaces, heater, ceiling fans.Full 2 Years Warranty,for All  WiFi IR RF Controllers,60 Days Refund Guarantee,Your complete satisfaction is the goal for all our customers. 

Parameter:

Power Input: DC 5V/1A(Micro usb2.0)

Model:RF-R1

Stand-by Power: ≤0.4W

Controlling Distance: Horizontal direction ≤8m, Opposite Direction ≤15m(Finally effect by environment)

IR control direction: Multiple Way

Operating Temperature: -10℃~50℃

Operating humidity: ≤85%RH

Connection type: 2.4GHz 802.11b/g/n

Carrier: 38KHZ

APP SUPPORT: Android 4.0/iOS 8.0 above

Wireless Frequency: 2.4GHz

RF:433/315MHz

Dimension:68*68*27mm

Package Listing

Universal IR  remote control ×1

power cable ×1

Manual ×1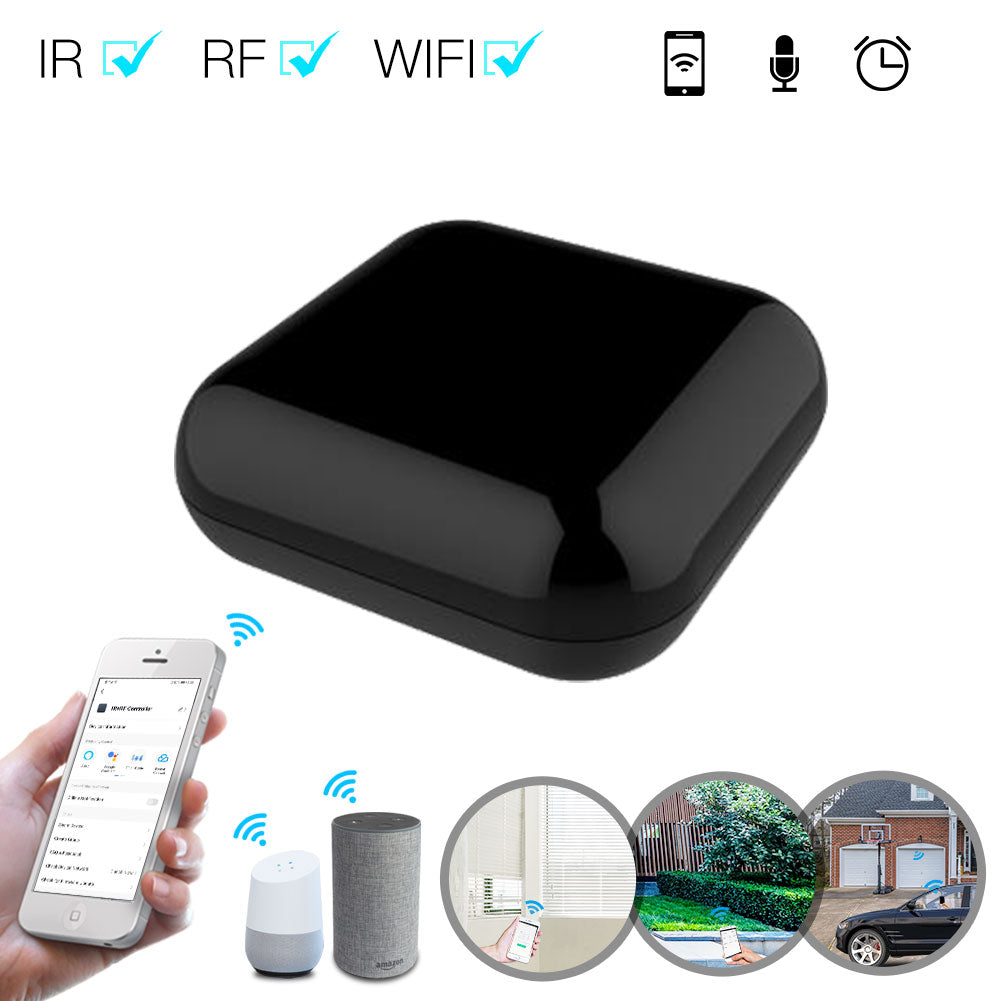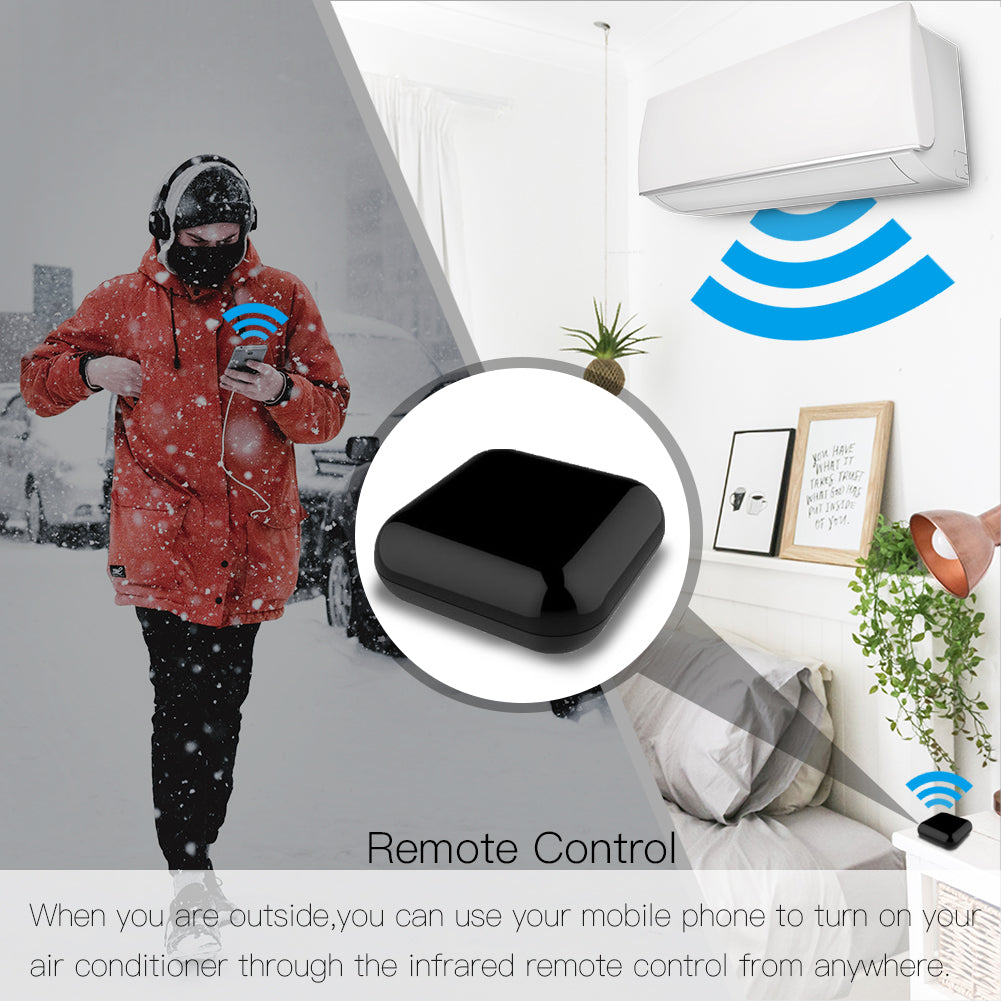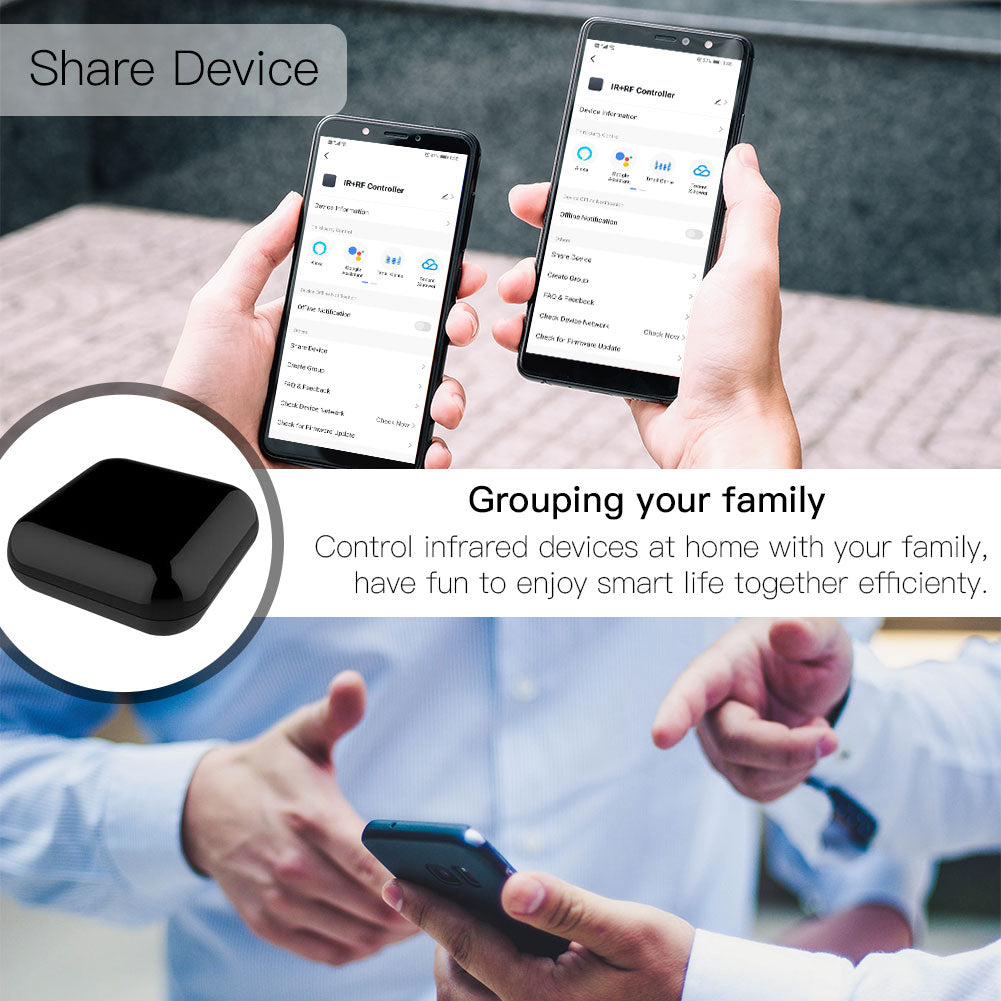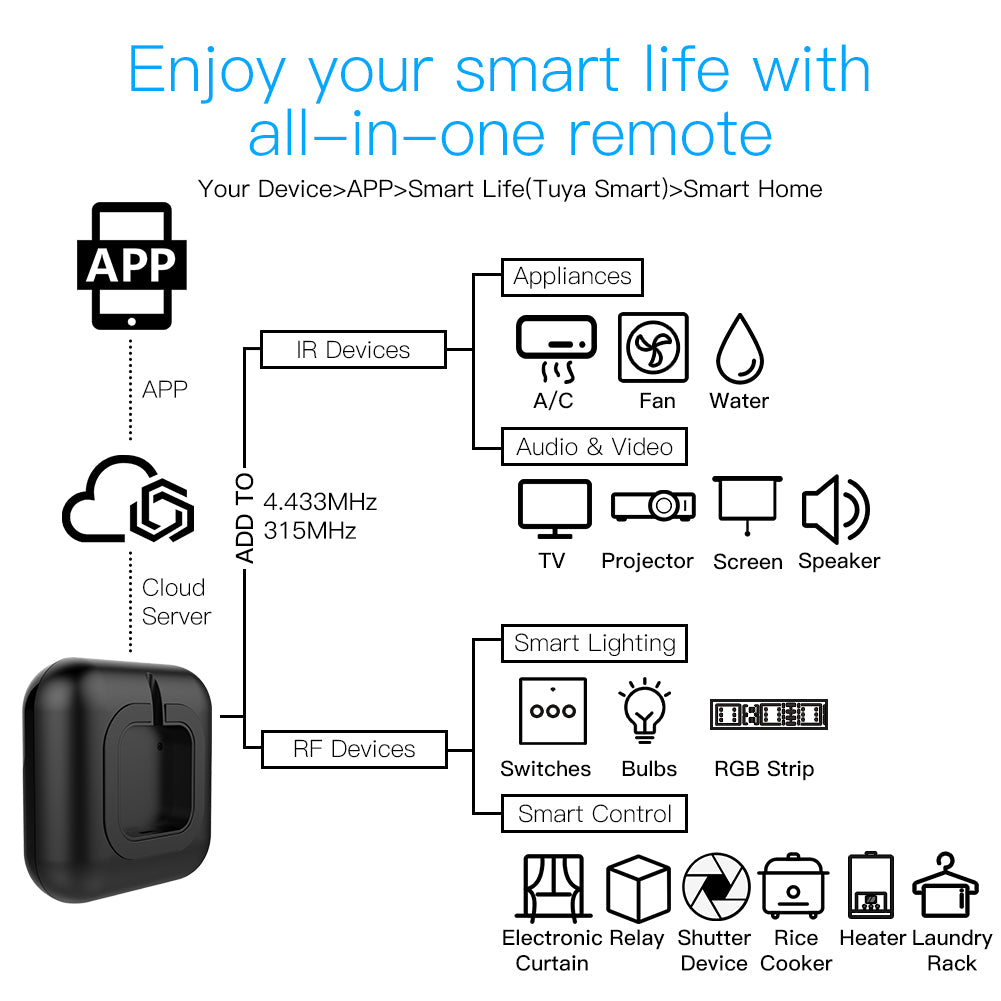 Q&A:
Q:Can I use this remote to control my RF fans?
     A:Yes,you can control RF appliances for it is RF  frequency built-in.
Q:Is the new version still designed with IR feature?
   A:Of course,it is newly designed with IR and RF for all-in-one controller.
Q:Can I control the connected devices when I am not at home?
A:Yes,it is compatible with Tuya Smart Life App for wireless remote control.
Q:What can I do if I can not find the device in the brand list?
A:You can try DIY feature in the App to meet your demand.
Q:Can I control the devices with Alexa?
   A:Yes,it is compatible with Alexa and Google Home for simple voice control.
RF not supporting sensors like fire/gas
RF not supporting sensors like fire/gas or alarm
very very limited options for RF
IR works fine
voice control is possible with IR, unfortunately not with RF
I bought this device thinking it made it possible to voice control IR- and(!) RF-devices. It seems only IR-devices can be controlled by voice (Alexa or Google). That is a pitty and I hope voice control for RF will be added as a feature in an upcoming update of the firmware.
It also would be nice to have the app Smart Life make it possible to lay-out your own button configuration in the DIY-mode.
Help
I can't configure my courtains RF remotes. I,can't copy the buttons can you help me?
Dear Valued Customer,
We are sorry to see that you left negative feedback relating to
your recent purchase experience from our store.
Please contact me ,I will send the operation video of courtains RF remotes to you.
Yours sincerely,
Moes Team(services@moeshouse.com)
Incompatível com ventilador Arno VX10 do Brasil
Gostaria de informar que não consegui parear meu dispositivo RF, um ventilador da marca Arno VX10. O controlador concorrente tem a opção de cadastrar a frequência de recepção manualmente. Será que poderiam acrescentar neste controle universal?