FREQUENTLY BOUGHT TOGETHER
MOES is a brand for anyone interested in using high-quality smart home devices to enjoy a whole-house intelligent lifestyle. Our mission is to design and provide comprehensive solutions to house devices for the enjoyment of our honored customers. MOES believes that "More Smart, More Green".
Why Choose MOES?
True Need
Trusty Quality
Attentive Service
Fast&Free Shipping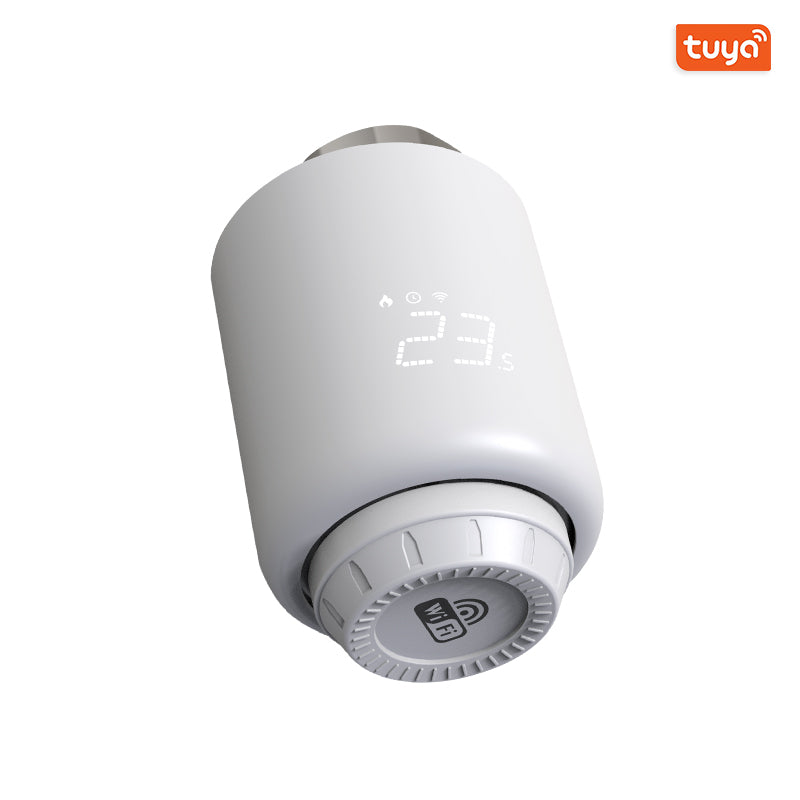 Features
【New Soft Touching Design with Rotatable Screen】New mini elegant curve design with extremely graceful arc techshape, feeling like baby skin that fits well to any decoration styles. Differs from original traditional display on the valve body resulting in reading trouble from the installation position,this new version is featured as rotatable screen that allows you to read it from different angles,providing with much more comfortable user experience;three sections of AA batteries powered,which is a special valve using cooperatively with heating radiator to control the closing and opening of the pipe
【WiFi Smart Thermostatic Radiator Valve with No Hub Required】This is the new WiFi type with no Tuya ZigBee hub required for simple WiFi configuration into Smart Life APP,wireless controlling your house radiator valve no matter where you are via smart phones with Auto and Manual mode optional in APP to enjoy the most comfortable temperature when you get home;together with anti-scale for preventing minerals in the water from clogging the valve.
【Programmable Schedule with Weekly Programming Selection】Supports manual set weekly schedule with 4 periods for each day,providing you with the maximum convenience for different situation and setting customized schedule for your house temperature.Auto mode,manual mode and ON/OFF mode are optional for added convenience;Energy saving in a real sense with temperature ceiling and lower limit setting functional in APP.
【Alexa and Google Home Compatible】Using simple voice command for house temperature control for more convenient life experience by adding our smart radiator valve controller into Alexa or Google Home;Window check and temperature calibration are supported in APP for added convenience.
【Data Logging and Child Lock Function】The Tuya Smart APP will record the temperature statistics with current and set temperature,as well as valve opening degree, allowing you to understand the working status of the product more intuitively;designed with child lock feature to prevent misoperations by your kids;packed with 6 different adapters to meet different matching demand;includes full 2-year warranty and 60-day refund guarantee for complete satisfaction.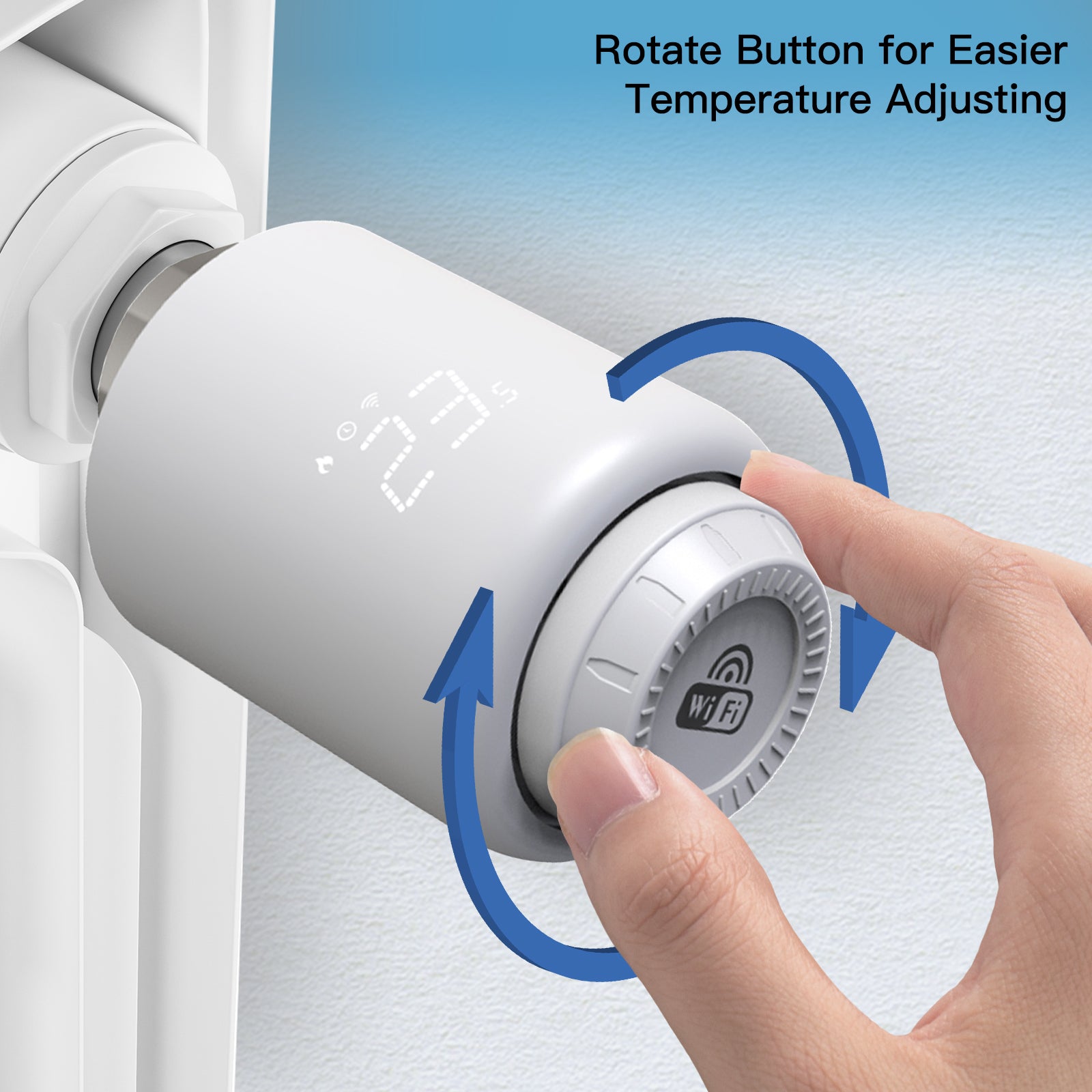 Easier reading by rotating screen orientation Easier Temperature Adjusting by rotating Button
Smart Anti-scale Mode,TRV executes routine decalcification every Monday at12:00 to protect valve from calcification."CR" will be displayed on the screen during decalcification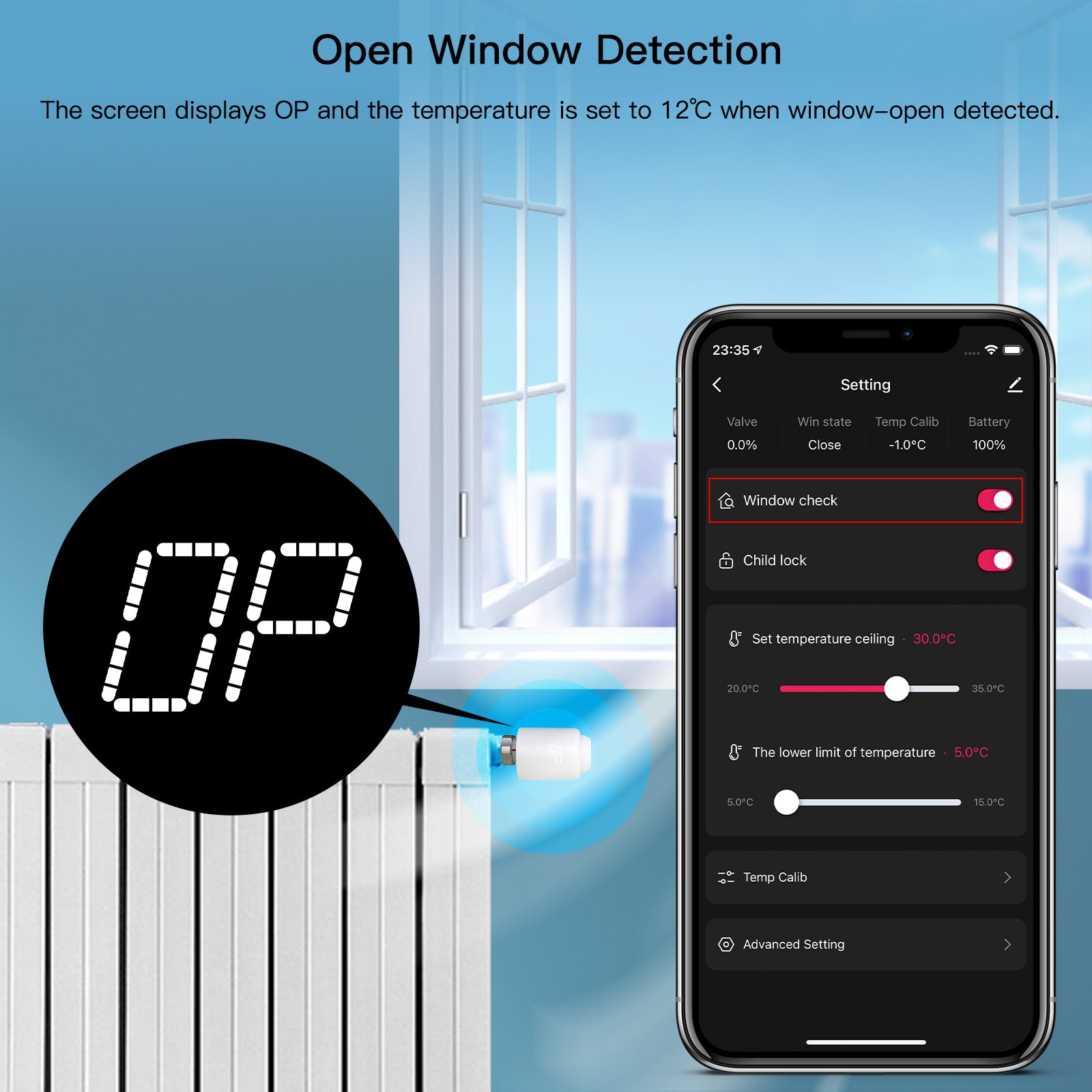 Smart Open Window Detection,The screen displays OP and the temperature is set to 12°C when window-open detected.Heating costs can be saved in winter.
Child Lock to Prevent Misoperations,Long press the middle button for 3s until the "LC" is displayed to activite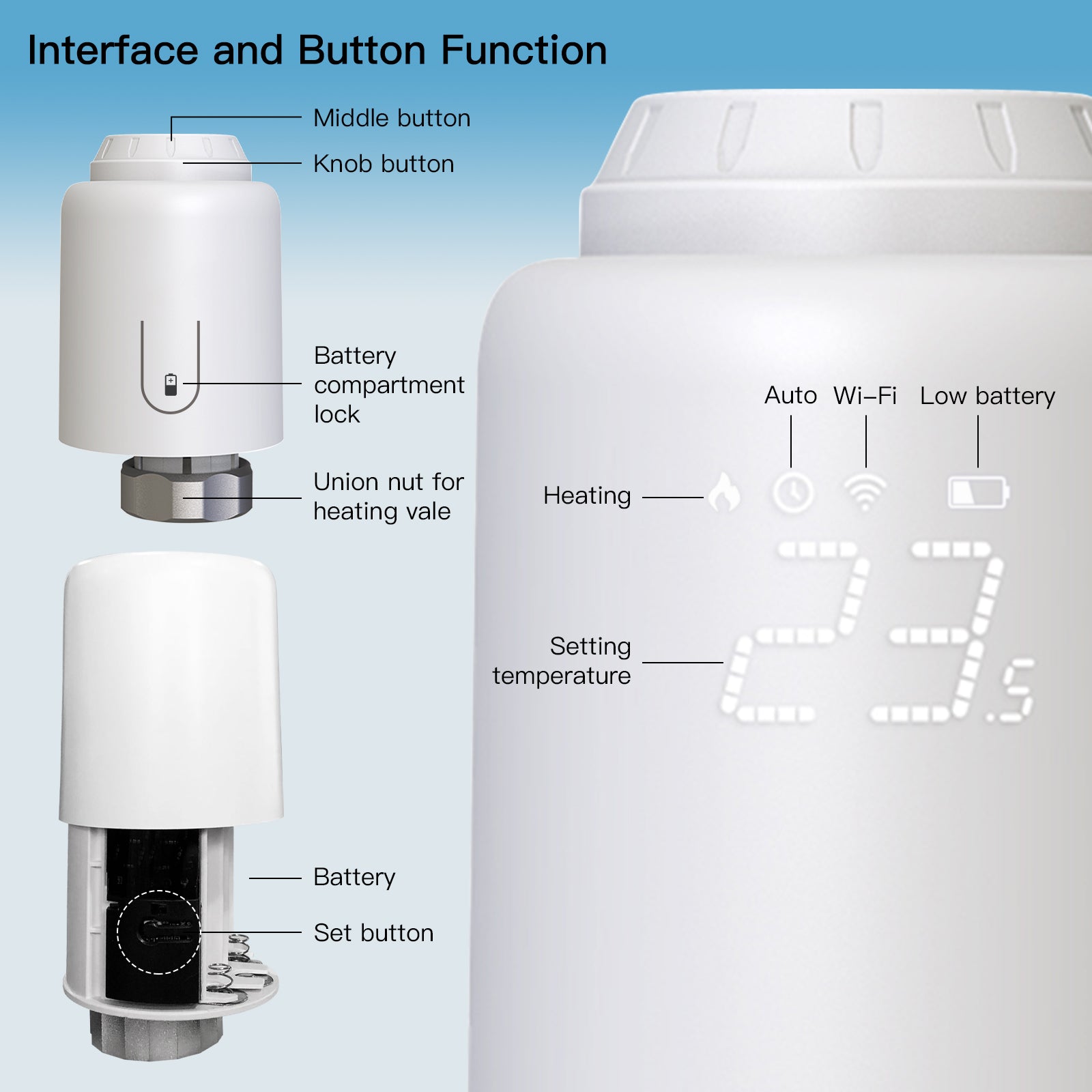 Specific interface display and rich operation button function, so that people more clearly understand the operation status of the valve and timely adjustment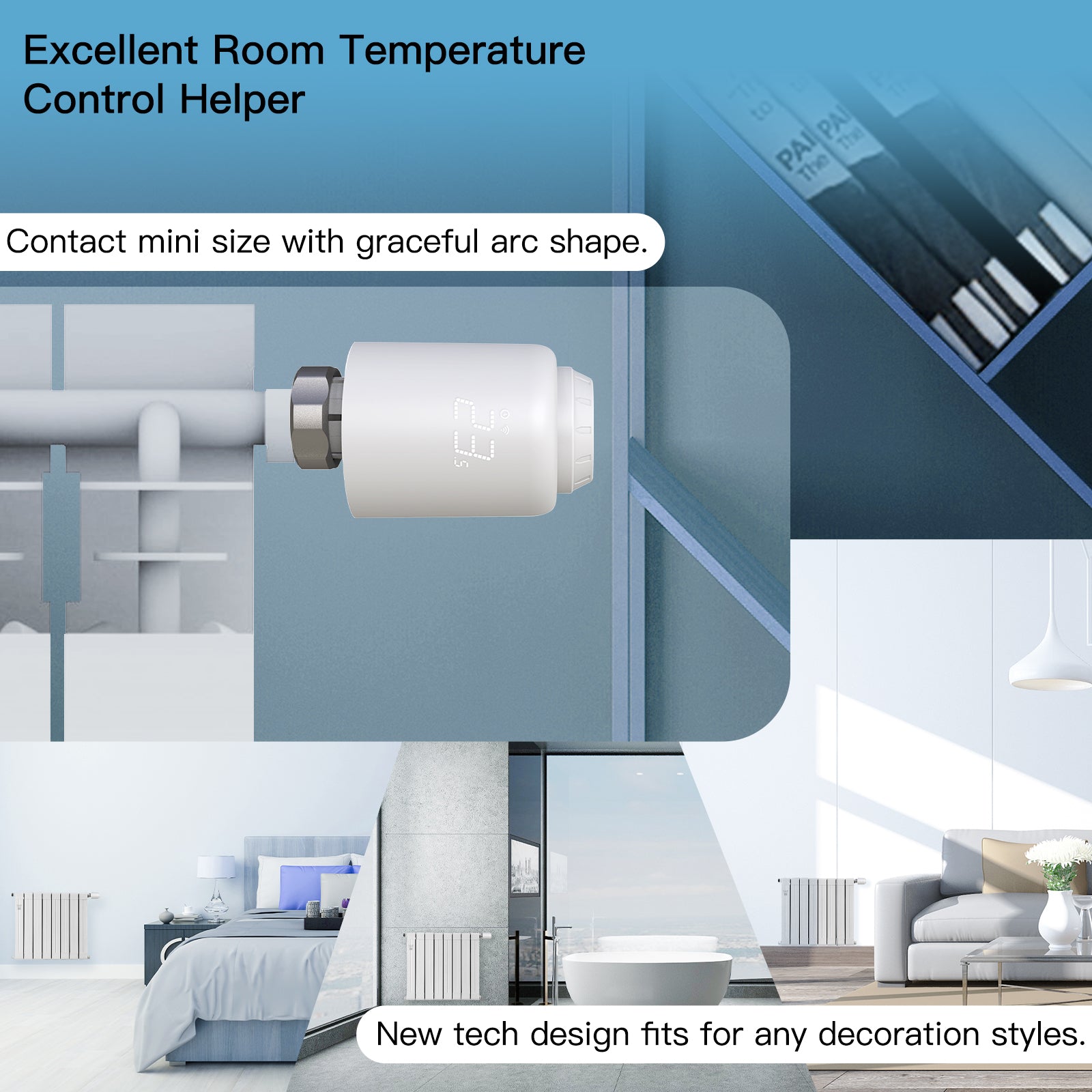 New mini elegant curve design with extremely graceful arc techshape, that fits well to any decoration styles.
Using High Quality Materials And The Best Accessories.More textured and solid with super torque output, up to 8 nm.
Global initiative, patented new WiFi TRV controller. With the new wifi technology, remote control is possible without a hub and more cost saving
Alkaline battery ensures for smooth and slow power supply to prolong the service life of controller.Measured result with up to about 76 days by consuming 23.592mAH of energy per day.3*1.5V alkaline AA battries requiredThe battery is not included in the package.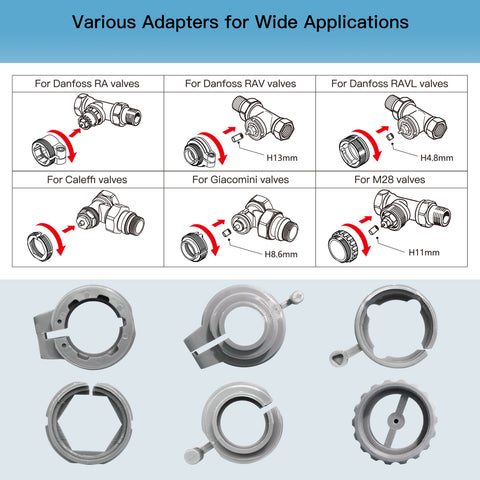 Specifications
Power Supply: 3pcs 1.5 V AA Batteries
Accuracy: 0.5°C
Set Temp. Range: 5~35 °C
Storage Temp.: -5~ 45 °C
Surface Temperature:90℃ Max(at the radiator)
Connection:m30*1.5mm
Linear Travel:4.3mm
Dimension:58.4*97*58.4mm
Weight:117.7g
Protection Class: IP 20
App: Tuya Smart/Smart Life APP
Voice Control: Amazon Alexa, Google Assistant
Package Content
TRV*1(battery not included)
User manual*1
Adapters*6